Things have been crazy busy lately. At the end of March my kids had a week of half days (for conferences) and last week was spring break, so we've been off on adventures. We went to two egg hunts, a roller skating birthday party, a read to a dog event at the library, two museums, a zoo, a few parks, and stopped by the Fremont Troll. The kids were cavity-free at the dentist and also had stellar second trimester grades. We also planted seeds in our garden table, sniffed the corpse flower in bloom at the nursery, and put up a mason bee house in our back yard.

On my own, I went to Mariner's opening day and Crazy Ex-Girlfriend Live. I attended my friend's campaign kick-off event (he's running for County Prosecutor) and worked a few days at the school book fair because I'm a sucker for a book fair. I saw a few movies, too (Unsane, Thoroughbreds, and Love, Simon).

We also painted and redecorated the kids' bedrooms. Ugh. I hate painting so much. We've only done their two rooms, but need to get the entire interior done. We've been in this house for seven and a half years and still have the builder grade beige they sprayed onto the walls. It's thin and flat and every single wall needs new paint. We decided we'll do all the rooms ourselves (bedrooms, family room, closets, bathrooms, laundry room) this year and use next year's tax return to pay someone to paint the living areas. We have an open concept floor plan and our first and second floors share some tall walls, so it's all going to be one color and we don't have the time, skill, or patience for that!

To top it all off, we're getting ready for a trip to Washington DC, so I'll be away from the blog for a bit longer. I couldn't let this day go by without a post though!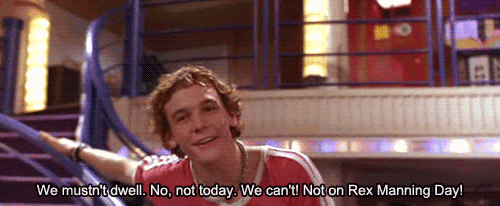 Happy Rex Manning Day! We have plans to go to the science center and a brewery today,
but I baked cupcakes last night because "Dad says there's 24 usable hours in every day."
We'll be listening to the soundtrack in the car and I'll watch my favorite movie tonight!
I was already looking into a trip to NYC next year, so if this happens, I'm there!