I'm obviously really late to the
Helene In Between
party because she has thousands of followers, including most of my favorite blog friends. How did I let her slip through the cracks? She commented on one of my posts last week, so I went and checked out her blog and now I'm following her everywhere, like a proper
stalker
blogger. And it was just in time for her "Songs That Define Me" linkup.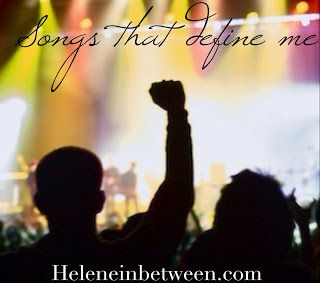 If you asked my friends they'd all say No Doubt, Britney Spears, and Blink-182 remind them of me, but I don't think that defines me. I definitely have some songs that speak to me or for me, but that post could get deep and drawn out. Instead, I'm just going to talk about the songs that connect me to memories of times, places or people in my life. Just remember, I was a child of the '80s and teen of the '90s. Some of you might not remember this stuff. And a lot of it is really embarrassing.
As a kid, my cassette tape collection consisted of pop music and movie soundtracks. I spent the majority of my time making up choreography with my sister and our best friends so we could put on lip-syncing concerts for our neighbors. For more info and an awkward picture of our performance, see
here
. I don't know how I got so lost and strayed from my pop star dream.
I Think We're Alone Now - Tiffany
Hold On - Wilson Phillips
Papa Don't Preach - Madonna
Cold Hearted - Paula Abdul
Step by Step - New Kids on the Block
Then I hit middle school and it was all about the inappropriate-for-my-age sexy slow jams. At after school socials in the small gym, my girl friends and I would sway back and forth, singing with such emotion to these songs played by a local DJ under a disco ball. All while the boys played basketball in the big gym. Clearly they were too immature to grasp the romance involved with slow dances.


If I Ever Fall in Love Again - Shai
That's The Way Love Goes - Janet Jackson
End of the Road - Boyz II Men
Freak Me - Silk
Weak - SWV
Knockin' Da Boots - H-Town


Middle school is when I got into rap too. Sure, Ice Ice Baby was my introduction to the genre, but I stuck with it and memorized all of Dr. Dre's The Chronic and Snoop's Doggystyle albums. Um, where were my parents? This music was also not ok for a 7th grader! I can honestly say that I had no idea what most of it meant. I was a naive goody-goody.


Regulate - Warren G ft. Nate Dogg
Summertime - Will Smith and DJ Jazzy Jeff
Snoop Dogg - Lodi Dodi
Poison - Bell Biv Devoe
Nuthin' but a 'G' Thang - Dr. Dre


In 9th grade I started paying attention to the alternative radio station. Except, I wasn't into all the grunge they were playing. No grunge in Seattle? Sacrilege! I preferred the pop/alt hits.


Runaway Train - Soul Asylum
Stay (I Missed You) - Lisa Loeb
Under the Bridge - Red Hot Chili Peppers
What's Up - 4 Non Blondes


But my R&B days weren't behind me. I was still listening to it well into high school. What can I say? I was diverse.


Gangsta's Paradise - Coolio
This Is How We Do It - Montell Jordan
Freak Like Me - Adina Howard
Don't Take It Personal (Just One of Dem Days) - Monica


With grunge fading out in the late '90s, I got a lot more interested in alternative music. These are just a few songs that remind me of high school the second I hear the first few notes.


Come Out and Play - The Offspring
I Got A Girl - Tripping Daisy


I also discovered that girls could rock. Courtney Love was my first real girl crush. I loved everything about her. She was messy, loud and rude. She screamed instead of sang. She wore torn up flowery vintage dresses with Doc Martens or Mary Janes. She had ratty hair and smeared lipstick and eyeliner. Plus, she was insanely talented. I wanted to be her. Alanis Morrisette also stole my heart because her music was the perfect soundtrack to my high school relationship. Read more about that
here
.
You Oughta Know - Alanis Morrisette
I also got into ska in high school. It was just so light and happy compared to the dark days of grunge we were used to. And who didn't love to skank? I still love to put on a good ska album on a sunny summer day.


Room Without a Window - Operation Ivy
She Has a Girlfriend Now - Reel Big Fish
Here In Your Bedroom - Goldfinger


In college, I worked at a daycare as a Kindergarten co-teacher and in the after school program. The kids reintroduced me to pop music. Just as I did, the girls spent their time on the playground making up dance routines and learning all the words to their favorite new songs off Radio Disney. I quickly jumped on this bandwagon because the music was just so fun and addicting. And it totally made me the "cool" teacher. I embraced pop music and never looked back.


Wannabe - Spice Girls
Crazy For You - *NSYNC
What a Girl Wants - Christina Aguilera
Crazy - Britney Spears
Everybody (Backstreet's Back) - Backstreet Boys


But I still had my alternative roots. I spent my weekends at concerts and music festivals, getting all banged up in the mosh pit. I was dehydrated, tired, sunburned, sore, and hungover for work and school on Monday, but I wouldn't have traded it for anything. And I still can't get enough of attending
concerts
to this day!
How's It Gonna Be - Third Eye Blind
When I finally moved away to college (I did two years at community first), my roommates, friends and I would get ready for a night of drinking while our TV was tuned into
The Box
. Do you remember this channel? MTV bought it in 2001 and turned it into MTV2, so maybe not. Anyway, it was an all music video channel where people could call in for $1.99 and vote on which song should be played next. These were our favorites:
What's Your Fantasy - Ludacris
Simple Kind of Life - No Doubt
After graduation, I returned to my hometown to live with Jacob. I spent a good six months hitting the bars and clubs with the friends I reconnected with. These were our jams:


How Many Licks - 'Lil Kim
Blowin' Me Up (With Her Love) - JC Chasez


And these were the pop songs we sang to at the top of our lungs in the car during the day:
Pieces of Me - Ashlee Simpson
Chasing Cars - Snow Patrol
Wind It Up - Gwen Stefani


I also got back into alternative music again. The up and coming bands were theatrical, their songs were more musical than ever, the lyrics contained story lines about love and heartbreak, and the lead singers were cute. Plus, it gave me the opportunity to get out and go to some concerts again, though I steered clear of the mosh pit in my old age. (I still haven't seen The Killers. They are on my must-see list).


I'm Not Okay (I Promise) - My Chemical Romance
So Contagious - Acceptance
Mr. Brightside - The Killers
I Write Sins Not Tragedies - Panic! At The Disco
All That I've Got - The Used


Then I got married, had kids, lost my identity, and stopped listening to music. Just joking! But going through my recent history is kind of boring, so I'll just share my favorite songs of the moment.
Applause - Lady Gaga
Kanye West - Black Skinhead
Wrecking Ball - Miley Cyrus
Stubborn Love - The Lumineers
Bubble Butt - Major Lazer
Lorde - Royals
Miss Jackson - Panic! At The Disco


I have the strangest taste.
Thanks for taking this trip down memory lane with me!