I love it when Jacob has federal holidays off! Friday was very low key. I started planning Milo's second birthday party (which is less than two weeks away...eeek) and watched Struck By Lightning. I thought it was a really cute, kinda sad movie, with a great cast. Chris Colfer, Rebel Wilson, Allison Janney, Dermot Mulroney, Christina Hendricks,Sarah Hyland, Angela Kinsey, Ashley Rickards, etc. I'm very impressed by Chris Colfer's writing skills.
On Saturday, my sister and her new baby joined me in Olympia for the Elvis Birthday Bash Dash! The first annual 5K was a very low key affair, starting and ending at a gym, with only 230 participants, but we had a good time. There were even people in costume. We saw Vegas Elvis, military Elvis, many wigs, gold glasses, side burns, and even a '60s Priscilla. Next year we are totally dressing up! As far as the "run" went, we walked. I'm glad I had a new mom with me so I could blame our slow speed on her. It was me though. I'm out of shape, still recovering from surgery, and have the worst plantar fasciitis right now. What a mess! I'm really hoping by the end of the year I'll be able to actual run, well, jog, a 5K. When we crossed the finish line we were greeted with a scarf, fried peanut butter and banana sandwiches, and maple bacon donuts. Delicious! World Champion Elvis Impersonator Robert Washington also put on a mini concert afterwards.
On
Sunday,
we took the boys to the Seattle Children's Museum.
You can't even see the top of the Space Needle. We've had fog all day, for six days straight.
Afterwards, I ran errands and when the boys went to bed Jacob and I watched Ted and started Milo's party prep. For a movie about a talking teddy bear, it was actually pretty funny. I'm a huge fan of Seth MacFarlane and Marky Mark is always great to look at. We laughed out loud at least twenty times. I loved it.
On Monday, my sister and I finally saw Les Miserables. It really is as good as everyone says it is, but I'm going to critique the hell out of it anyway. It was way too long. I don't remember the musical having fifteen songs after the battle scene and I got bored. Russell Crowe looked the part and acted just fine, but he sounded like he was out of his range the entire time. Anne Hathaway overacted, as usual, but it worked. Amanda Seyfried sang surprisingly beautifully, but with too much vibrato. Eddie Redmayne had a weird Kermit the Frog voice and waaaaay too much vibrato. Like every single word. I hated it. The close up angles were really uncomfortable. And why were they all British instead of French? I especially didn't understand the little Cockney boy running around during the revolution. Now for the good. I loved all of the kids in the film. Amazing! I thought Samantha Barks was fantastic! Taylor Swift could have never (ever, ever) pulled that off. Ever. I don't know how she was even considered. The only time I got a little misty-eyed was during "On My Own". The sets, makeup and costumes were amazing. How did they CGI missing teeth on Anne? Creepy. Hugh really was great, even if he overacted every once in a while (this is a movie, people, not a stage), but Sasha Baron Cohen and Helena Bonham Carter were my favorite part. They provide the only humor in a very dark, serious story and were perfectly cast. (Casted? Grammar help?)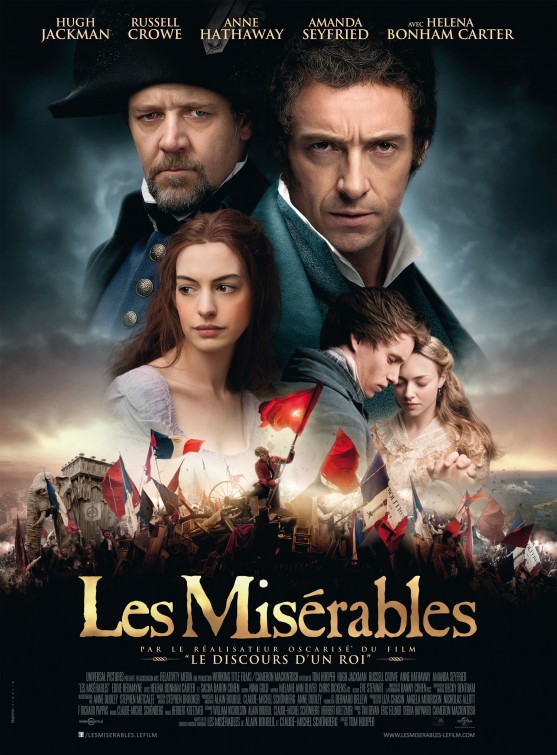 After the movie we
got sushi. I don't like seafood at all, so I had a feeling I wouldn't be into it, but it's my sister's favorite and I'm trying to branch out. I didn't love it, but I didn't throw up either. She made sure to order things I would like and none of it was raw. The vegetarian roll was really good, the other two (both tempura shrimp, one with spicy crab and one with scallops) were alright after I scraped all the seafood toppings off. What? It still counts!
Yeah, I used child chopsticks
Then I ran a million more birthday party errands and now I'm about to settle in and watch the Lifetime Original Movie Prosecuting Casey Anthony. I'm a terrible person for tuning in, but it's Rob Lowe. I have to.
So yeah, this weekend was all about movies, family time, sister time, food, party planning and The King.
Pretty good mix!
I'm linking up with
Leeann
!