I can't wait for some of my favorite shows to start back up!

Downton Abbey - Jan 6
Pretty Little Liars - January 8
Girls - Jan 13
Smash - Feb 5
Mad Men - TBD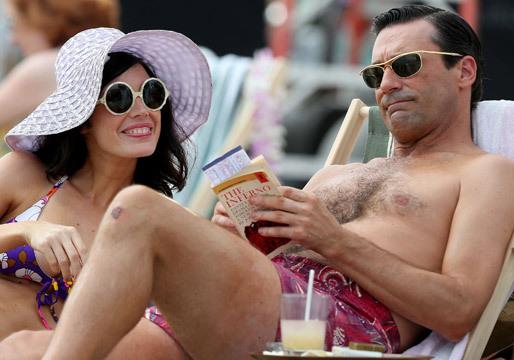 - - - - -
What do you think about these brand new shows?
Deception - Jan 7
When a rich socialite dies at 32, her childhood BFF goes undercover to investigate the cause of death from her family.
Africa - Jan 8
A 7-part Discovery documentary series by about, well, Africa.
1600 Penn - Jan 10
A comedy about the president and the quirky first family. Staring Bill Pullman, Jenna Elfman, and Josh Gad.
The Carrie Diaries - Jan 14
A prequel to Sex and the City, following Carrie Bradshaw as a teenager in the '80s, long before her days as a sex columnist.
The Following - Jan 21
Kevin Bacon plays as an FBI agent who comes out of retirement to investigate a serial killer,
following in the footsteps of a previous serial killer.
The Americans - Jan 30
Keri Russell and Matthew Rhys star as Russian KGB spies in the '80s who pose as a suburban married couple.
Do No Harm - Jan 31
A neurosurgeon learns that his body is no longer responding to the serum that keeps his dangerous alter ego in check.
Zero Hour - Feb 14
When an antique clock collector is abducted, her husband discovers a treasure map that might lead him to her --
if he can crack the codes that will expose the conspiracy.
Cult - Feb 19
A journalist investigates a TV show with a crazy cult-like following.
Bates Motel - March
This Psycho prequel focuses on the formative years of Norman Bates and his relationship with his mother.
How to Live With Your Parents (For the Rest of Your Life) - Apr 3
A single mom and her daughter move back in with her self-involved mother and her stepfather.
The Family Tools - May 1
A notorious screw-up has to take over the family hardware business after his dad has a heart attack.
Mistresses - TBD
A steamy drama about four friends and their involvement in an array of illicit and complex relationships.
Hannibal - TBD
An FBI criminal profiler teams up with Hannibal Lecter, a brilliant psychiatrist who's secretly a killer.
Save Me - TBD
After a near-death experience, a woman hears the voice of God
and is convinced that she's supposed to help Him communicate with others.
The Goodwin Games - TBD
Three siblings must follow their late father's instructions in order to get their inheritance.
I'll be checking out Africa (because I'm a sucker for stuff like that), The Carrie Diaries (because, well, it looks really stupid, but it's Carrie Bradshaw, so I have to), The Following (because it'll be a good show for Jacob and I to watch together), The Americans (because it looks totally awesome), Bates Motel (amazing cast and awesome premise), How to Live With Your Parents (Ugh, stupid title, but I like Sarah Chalke and I LOVE Elizabeth Perkins), Mistresses (because I love Alyssa Milano), Hannibal (another show for Jacob and I to watch together), and The Goodwin Games (because I love the cast and the plot sounds fun).
So many shows. So little time.
What will you watch?