I started
Fat Mum Slim
's Photo a Day challenges a few times this year, but never followed through. I was determined to finish November and I did it! Check it out.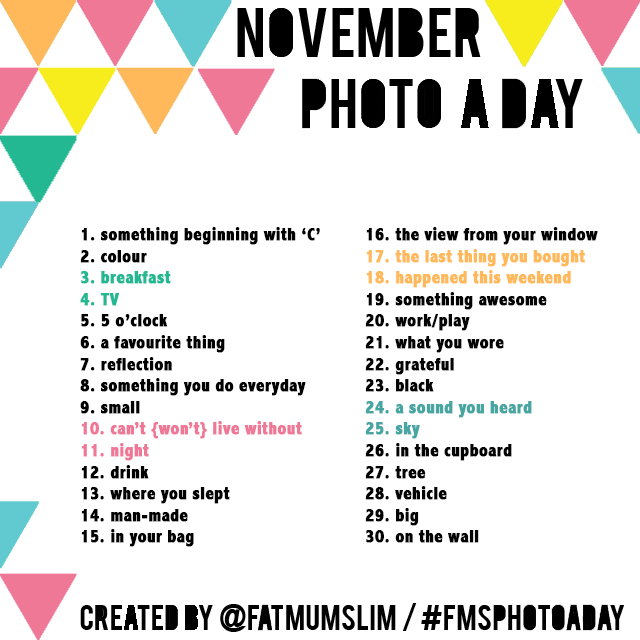 1. Something beginning with c: Me
2. Colour: Trees on our way to the library
3. Breakfast: Satsumas
5. 5 o'clock: Took a walk to the mailbox
6. A favourite thing: America
7. Reflection: Me and Mi in the car
8. Something you do everyday: Cuddle with this monster
13. Where you slept:
My bed
14. Man-made
: Gadgets while we wait for the arrival of my sister's baby
15. In your bag:
(see
here
)
16. View from your window: Rainy day in the neighborhood
17. Last thing you bought:
Olivia Newton-John and John Travolta
18. Happened this weekend:
Not a whole lot
19. Something awesome: Nolan's feather says he's thankful for "leaf eaters"
20. Work/play: gallery wall/toys in the playroom
23. Black: Black Friday at home in PJs
24. Sound you heard: Heart's greatest hits at the donor center
25. Sky: Perfect for a photo session
26. In the cupboard: Favorite cereal
29. Big: Little boy in my big bathtub
30. On the wall: Our latest canvas
It was fun, but I'm glad it's over and I won't be doing another one. I felt like I was being really annoying.