With Election Day less than a week away, you might be spending the weekend wrapped up in the news to help you make a decision. But if you already know who's getting your vote, you could just sit back, relax, and be entertained by an election movie. I love them! (If you haven't realized by now, I'm kind of a nerd). Here are my picks for the best election movies.
DRAMA
An ambitious young staffer (Ryan Gosling) gets a crash course on dirty politics during his stint on the campaign trail for a presidential candidate (George Clooney). Inspired by the real-life experiences of an aide who worked on Howard Dean's failed 2004 run.

Capt. Bennett Marco (Denzel Washington) and Sgt. Raymond Shaw (Liev Schreiber) are taken captive during the Persian Gulf War and brainwashed so that they're programmed to rebel once they return home. Ten years later, as Shaw's mother (Meryl Streep) is busy helping her son in his bid for the presidency, Marco recalls the brainwashing.
Bill McKay (Robert Redford) is a California lawyer urged to run against the seemingly unbeatable Republican incumbent in a senatorial race. McKay is a well-meaning innocent, but as support widens for his open platform, the sellout begins.
A thinly veiled take on Bill Clinton's campaign for the 1992 Democratic presidential nomination with a sterling cast (John Travolta, Emma Thompson and Kathy Bates) and a brilliant screenplay.
COMEDY
Sen. Jay Bulworth (Warren Beatty), reduced by years of compromise and scheming, hires a hit man to put him out of his misery. Kicking off an election campaign with nothing to lose, takes the opportunity to be bluntly honest with his voters. When he gets clarity and respect he tries to call off his assassination.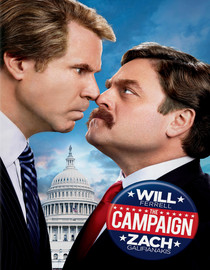 In order to gain influence over their North Carolina district, two CEOs seize an opportunity to oust long-term congressman Cam Brady by putting up a rival candidate. Their man: naive Marty Huggins, director of the local Tourism Center.
When the president is caught in a sex scandal less than two weeks before the election, White House spinmaster Conrad Brean (Robert De Niro) creates a phony war with the help of Hollywood producer Stanley Motss (Dustin Hoffman) to distract the electorate.
It's Election Day and the eyes of the nation have fallen on one beer-swigging couch potato (Kevin Costner), who is able to single-handedly choose the next president. Kelsey Grammer, Nathan Lane, Stanley Tucci, George Lopez and Dennis Hopper also star.
I also recommend these documentaries if you're looking to gain a little knowledge instead of just being entertained: The War Room, The Fog of War, Unprecedented: The 2000 Presidential Election, and Swing State.
Are you a political nerd like me? What is your favorite election movie?