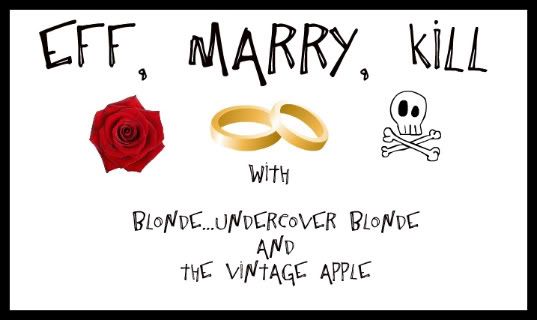 In honor of my favorite show on current TV (which finally comes back tonight) my Eff, Marry, Kill choices are from Happy Endings. I am so in love with this show. I seriously laugh out loud, alone in the family room, and one time woke up Nolan on the other side of the house, upstairs. It's the only show that I watch live. It's the only shows that I call my friends to talk about when it's over. I. love. It. I want to live in it and hang out with these weirdoes every single day.
Here are the contestants:
Dave
Brad
Max
This is so tough because I love every single person in this cast. I'd definitely eff Brad and even though Max is gay and kinda of a loser, I'd marry him. He's hilarious, shameless, and loads of fun. That means I'd have to kill Dave. Poor Dave. Please tell me you are watching this show! Who would you choose?