I'm linking up with
Love, The Grows
for this awesome Q&A! When I came to Jacob with the idea of this post, he was all for it, but man, getting answers out of him was like pulling teeth! He said, "I don't know" every time and then finally gave one word answers. Lame.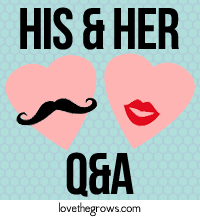 Your house is on fire. What five items do you grab before you leave?
His: Wallet and keys. Our safe is fireproof. That's pretty much all I need.
Her: My purse, phone, and external hard drive. It's got all my photos. Everything else is replaceable.
If you could be/had to be the main character of any movie, who would you be?
His:
The Highlander in
Highlander
.
(This is the first time I've ever heard of this character or movie.)
Her:
I always wanted to be Ariel in the original
Footloose
, except for the getting beat up part. Or Satine in
Moulin Rogue
. Oh, but she gets TB and dies. Hmmm… I'm going with Buffy in
Buffy the Vampire Slayer
. I love that movie and still quote it to this day.
What physical feature do you love most about yourself?
His:
My smile.
(This is the first time I've heard this one also. Do I even know this guy?)
Her: My boobs. Just being honest, here.
Tell us why your name is your name. And if you don't have (or know) an answer, make one up.
His:
My mom liked the name Jacob from
My Three Sons
.
(Um, there's no Jacob in that show. He has no idea what he's talking about.)
Her: I'm not sure where she heard it, but my mom was obsessed with "Christina" since she was a kid. That's what she named all of her dolls. My dad had no objections, so that's my name. Also, my middle name is Denise, which is my mom's first name. She pulled a Lorelai Gilmore!
What is the greatest place you've ever traveled to?
Her: London. And Rome.
Are you a morning person or a night person?
His: Night. Well, neither.
Her: I'm totally a morning person. I wake up in a good mood.
Who is someone you wish you were closer to?
His:
I can't think of anyone.
Her: My brother.
What quality do you have that you hope your kids inherit?
His:
My laid back attitude.
(Finally! A good answer!)
Her: Compassion for others, especially the less fortunate or people who are "different" than us. That is a huge thing for me. We are a lucky family and I really hope we can teach our boys to be kind and stick up for other people, no matter who they are.
What's your favorite memory with your childhood best friend?
His:
Riding bikes all summer in my cousin's neighborhood.
Her: We created a lip-syncing group with her older sister and my little sister. We rehearsed for months before sending out invitations and putting on a show for our neighbors. After the grand spectacle (which consisted of some minor choreography, but mostly just swaying back and forth on my front porch while miming the words to songs by Whitney, Tiffany, and Madonna), we provided an ice cream sundae bar. My mom is awesome.

A. My sister. She's really into one of our slow jams, eyes closed and all.
B. Friend's sister.
C. Friend. She refused to sit because she was uncomfortable and shy. As if this didn't make her stand out more?
P.S. I'm dying over her shoes. I want them!
D. Me.
E. Our sign. It's hard to see but it was made out of this:
If you had to move out of the country where would you move to?
Her: London