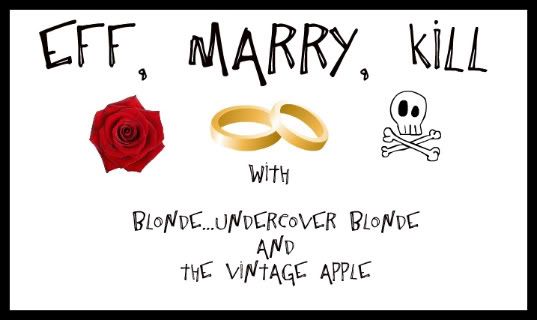 I've seriously been watching
Friends
every night for the past two months. I haven't watched it in years and I have a ton of shows on my TiVo to catch up on, but when 10:00 pm rolls around I make sure my teeth are brushed and my face is washed so I can climb into bed to watch for an hour. That brings me to my choices for eff, marry, kill. Not Chandler, Ross and Joey. I'm looking for die-hard
Friends
fans to choose between three of Rachel Green's boyfriends: Joshua, Paul or Tag.
Joshua
A recently-divorced customer who regularly uses Rachel as a personal shopper at Bloomingdale's.


Paul
Elizabeth's father. After Rachel joins the three of them for dinner to talk up Ross's good side, she starts dating Paul.
Tag
Rachel's inexperienced but attractive new assistant at Ralph Lauren.
I would definitely eff Tag. I mean, look at him. He's stupid, but adorable. I'd marry Joshua because he was definitely the most normal. I'd kill Paul because that guy was weird! And he cried too much. So tell me, who would you eff, marry and kill?