Please don't tell me I'm the only one in blogland over the age of 18 that watches
Jersey Shore
! I recorded the entire last season, but because there were so many new fall TV shows on, I put off watching it until this weekend. I watched nine episodes of these guidos and guidettes roaming the city of Florence and I loved every minute of it. Since they are fresh on my mind, I thought I'd link up with
Blonde…Undercover Blonde
and
The Vintage Apple
with my choices for Eff, Marry, Kill.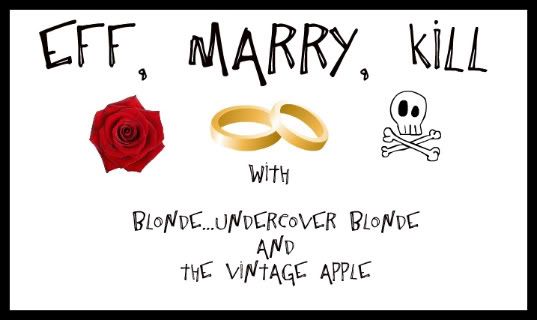 I give you MVP.
Mike
He's a 100% certifiable super douche. If you didn't think so before, this past season proved it. But he's got those abs…
Vinny
He's the sweet, sometimes shy guy who loves his family and isn't afraid to show it.
Here's are my picks:
Eff
Pauly. He's hot. Really hot. After we're done, I'd want to be just friends so I could hang out with him on the regular.
Marry
Vinny. He's so sweet, smart and really funny too. I'd marry him in a second. Plus, we all know he's into cougars.
(I'm 32, does that make me a cougar?)
Kill
Mike. Hands down.
Your turn! What part of MVP would you eff, marry and kill?