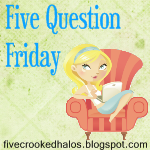 1. If you could go back to college would you change your major?
I wouldn't change mine. Well, I kind of already did. I started out as an education major then switched three years into my degree to political science major/history minor. I ended up becoming a paralegal and really liked my job. (Even though I'm taking a few years off to raise a family.)
2. What do you love most about your home?
I don't have a home! Waaaah. We sold our house in January to my parents. They got three foster kids and needed to move out of their two bedroom "retirement house" to, you know, foster them. Our house was a typical split level three bedroom house, and we put a lot of work into it, but it was always meant to be just our starter home. Since we knew my parents would buy it, we sold it! (In this economy, who wouldn't?) My husband's employer put us up in an apartment until the end of the summer. We put an offer on a short sale waaay back in December and have yet to hear back. We've been told we should hear something next week. If so, this will be our new house and I'll love everything about it!
3. What types of books do you like to read (if you like to read at all)?
I love biographies and non-fiction. Comedies too. I've also been trying to read all the classics. I'm all over the place. I just finished Jenny McCarthy's Life Laughs. Right now I'm reading Game Change. And next on my list is She Ain't Heavy, She's My Mother: A Memoir by Bryan Batt. (Salvatore from Mad Men. Did you know he's not coming back next season? So sad.)


4. What is the grossest thing you've ever eaten?
I'm a really picky eater and don't like to try new things. I know, I'm annoying. So the grossest thing I've ever eaten was a chocolate covered cricket. I made them for my Communications 101 class to go along with a speech I did on entomophagy (the practice of eating insects). It was such a cool topic with interesting research and an awesome visual aid. The class and my professor really got a kick out of it and about half of them gave a little chocolatey critter a try.
5. If you HAD to be a character on a TV show, whom would you be?
I always sort of identified with a few characters on TV when I was growing up. Like Angela from My So Called Life or Brenda from Beverly Hills, 90210. I was definitely the good girl who hung out with the wrong crowd. But now, as an adult, I'd have to say I'm a lot like Claire from Modern Family. I don't have the crazy family or any teenagers yet, but I do have a lovable, dorky husband and I'm definitely a control freak with a dash of OCD. (Did you see the season finale? That is SO me!)
Oh, wait. It doesn't have to be someone I already am? Then I pick Carrie Bradshaw! But without Big.