I'm playing along with
Mama M's
Five Question Friday.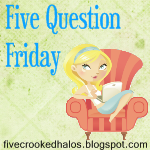 1. Take your pick...date night, girls night out, or night out alone?
These days, I think I'd pick a night alone. My husband and I go on about two dates a month. It's not as much as we used to get, but we are temporarily living two hours from our babysitters, so I'm grateful for two dates. I do a few things with my friends each month, too. Not always nights, but shopping or a movie. So what I would really love is a night alone, but in my own house. Is that weird? I would get take out, watch a movie and relax, go to sleep whenever I want and sleep in late.

2. Can you touch your nose with your tongue?
Nope. I just tried.
3. What is your favorite flower and why?
I love single stem orchids. I think they are so strange looking, but cool at the same time.
4. If you could go back in time, what advice would you give yourself?
I would go back to when I was planning my wedding and tell myself to calm down and have fun! I was a wreck. I had been with my husband for four years before we got married, but I had several mental breakdowns thinking that everything would change and that I would be miserable. (I'm really bad with change). I was stressed and didn't enjoy my wedding or the planning process at all. And of course, everything was fine. He's still the love of my life and things did gradually change, but for the better.
5. If you won the lottery, what is the very first thing you would do?
Book a world cruise. I've always wanted to visit all seven continents, but to cruise comfortably, it would cost about $250,000 and some are up to six months long. It's obviously it's out of the question for now. So I'm counting on winning the lottery. Otherwise I have to wait until I retire…